During the Autumn months there's nothing I love more than a good woodland walk or to stretch my legs around a country park. It's the perfect season for spotting wonderful wildlife, taking in natural beauty and of course, pulling on a warm jumper to keep the cold at bay.
For today's Blogtober post I thought it would be fun to share some of my favourite knits – Autumn-appropriate jumpers for cosy Sunday afternoons.
Rita Nuts About You Squirrel Jumper, £49 from Sugarhill Brighton
Featuring a super-cute squirrel wearing a bobble hat intarsia, this cosy knit is sure to brighten even the dullest of days and is perfect for a trip to your local park.
Rita Deer To Me Stripe Sweater, £49 from Sugarhill Brighton
Cute, colourful and cosy, this striped knit features a fun deer intarsia that will see you through Autumn and well in to the festive season in style (for a subtle take on the classic Christmas knit).
Miranda Duck Jumper, £41.95 from Joules
Banish rainy-day blues with this playful knit from Joules. Featuring a fun duck and umbrella design, this knit is perfect for layering under your mac when the weather is looking particularly fowl.
Wednesday's Girl Striped Fluffy Jumper, £25 from ASOS
You can't go wrong with a classic stripe – this knit has been given an Autumnal update with a fuzzy, fluffy-feel in a conker-brown shade. Perfect for woodland walks.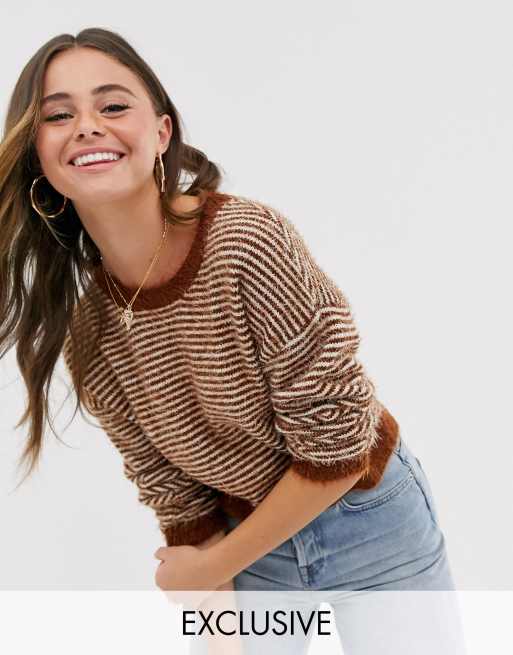 Chunky Knit Sweater, £35 from Monki
In this seasons must-have mustard this chunky knit combines cosy balloon sleeves and leaf stitch detailing to create the perfect nod to Autumn.
Will you be bolstering your knitwear collection with any of these Autumnal jumpers? Let me know in the comments below.