If like me, you find yourself a Single Pringle this Valentine's Day fear not! There's no reason for you not to splash out and celebrate. If there's no Boo to treat you, why not treat yourself to something special instead? Here's my little lust list of all things sweetheart-inspired!
Three Hearts Print by Cassandra Francis, £30 here!
Cassandra Francis is an extremely talented Tattoo Artist; she also has a shop selling original pieces of artwork. Three Hearts is a print, but it's absolutely stunning and on great quality paper too. Perfect for adding a touch of vintage-inspired romance to your walls.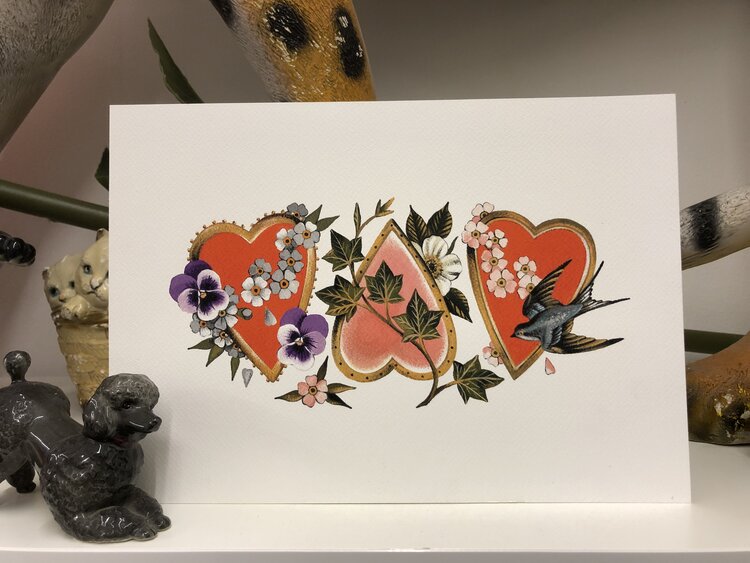 Love Heart Clown Hanging Ornaments by Lucy McCall, £45 each here!
I have recently discovered Lucy McCall and already I am obsessed. These sweet clown hanging decorations will provide some much-needed Kewpie-cuteness to your curiosity cabinet or shelf.
Sonny Angel Valentines Day collectables from Didi Inspired, £8 per box here!
Fiona is the genius behind Didi Inspired and a really wonderful human being. I always go to her and Didi Inspired for my Sonny Angel purchases. This year I picked up a full set of the super-sweet Valentine's Day series. They're sold in blind boxes so you won't know which one you're going to get but I think that's what makes it so fun!
Woman in Rose brooch by The Makings of Miss Jones sold by Lottie&Lu, £35 here!
I am a brooch addict and if I hadn't splashed out so much this month this beauty would surely be mine. Taking inspiration from tattoo artwork this acrylic number features a gorgeous vintage inspired woman peeking out of a romantic rose.
Best Friend gift set from Lush, £25 here!
The Best Friend gift set contains some amazing product including two rainbow-hued exclusives – a total bargain at just £25! Ideal for gifting to your best friend (or yourself!)
Let me know in the comments below which items you like best!